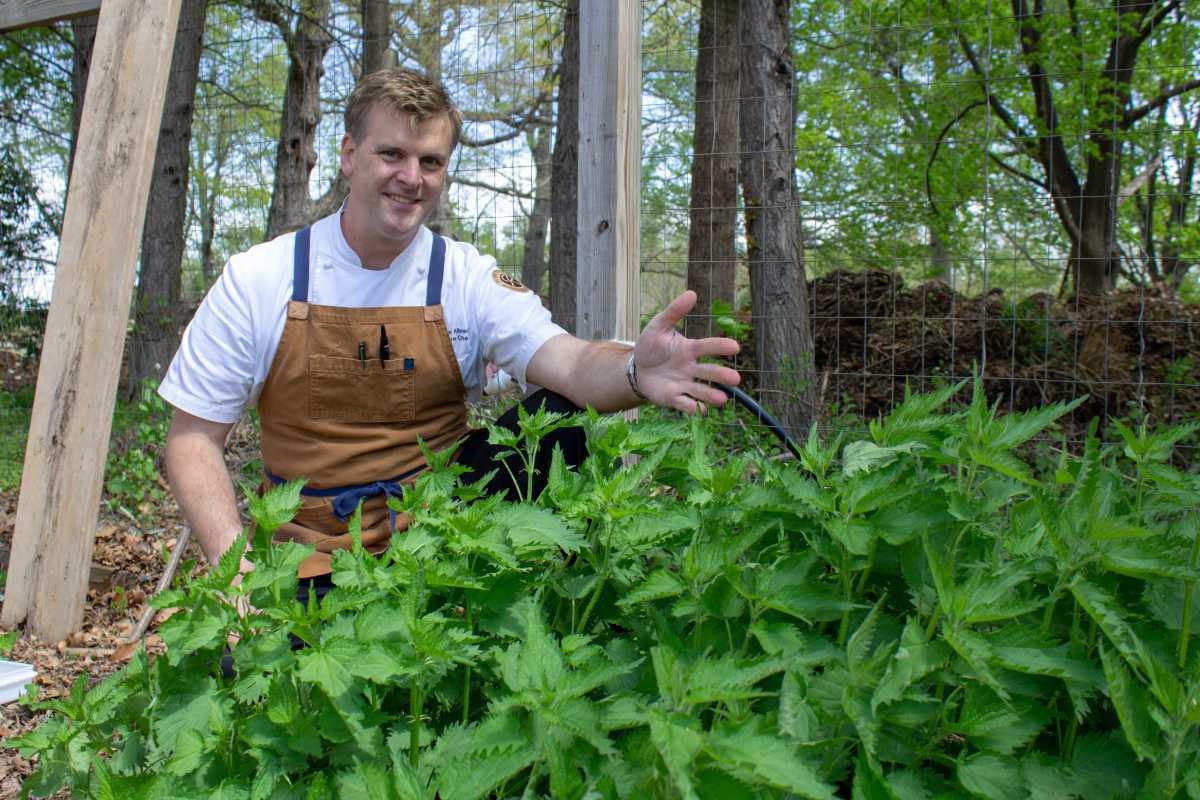 The Ryland Inn is a stunning, rustic yet romantic restaurant and wedding venue located in Whitehouse Station. Executive Chef Christopher Albrecht, is more than just a chef, he is a true artist. From the way he talks about food, his farm, plating, and customer experience, it's truly incredible to watch. What is particularly special about The Ryland Inn is that they have an actual farm in their backyard.
What's your name?
My name is Christopher Albrecht.
What do you do?
I'm the Executive Chef of the Ryland Inn.
How long have you been at the Ryland Inn?
This September was 3 years, so a little bit more than that.
Tell me your story, how did you start?
I started cooking as a summer job down the shore in Long Beach Island. I went to a restaurant and was looking for a cook's job. I'll never forget, the interviewer asked if I had cooking experience and I said, "Well I've cooked at home with my mother and grandmother." He said, "Sometimes, that's all it takes." I started as a dishwasher. I worked there during the summers for 5 years.
What attracted you to cooking? What was the pull?
Initially, there wasn't any sort of pull to cooking other than it was something that I felt at ease with at home. I really had no idea about the lifestyle or the demands of a professional cook/chef might be. It just seemed like it was a hip thing to do.
I worked those summers moving from the dishwasher to the lobster kettle to the fry station to the grill station to the sauté station and eventually becoming the grill manager. All the while, I was going to school at the University of Southern California to get a degree in finance. I was playing baseball there and I had a job in the commissary kitchen there. At some point, I realized I didn't want to sit behind a desk and wear a suit. I wanted something a little bit different for myself. When I returned home from college, I got a job cooking at a local restaurant. It was essentially a one-off Bennigans at the time. Fortunately, the owner wanted to have a fine dining Italian restaurant. He went to New York and found himself a chef who would work four years at La Grenouille, a very fine French restaurant in Manhattan, and four years at the Oak Room in the Waldorf-Astoria. I ended up working one-on-one with this chef and he changed everything about food. Less about changing and more about opening my eyes. The way he organized himself, the way he went about tasting food, the attention to detail. Everything about it was intoxicating. I knew that he had started his career at the Culinary Institute of America and that was something that – upon seeing what it produced – I thought, "I've got to go myself."
I went to the Culinary Institute of America and for part of the curriculum, you do an internship. I had applied to about a dozen restaurants in Manhattan and some friends of my family said, "Have you applied to Gramercy Tavern?" I said, "I haven't even heard of it." They told me it had only been about for about three months, but it was quickly becoming a favorite restaurant. I sent my resume in and the next day, Tom himself called me. It was a Friday night, I came in on a Saturday to trail, and the rest is history. I went into a kitchen where they had literally spent a million dollars in the kitchen alone. Everything was thought out, it was like a bunch of surgeons working in the kitchen and I wanted to be a part of that. I completely blew off all the other trails that I had scheduled, came back, and started my externship there. I worked weekends through the remaining portion of my culinary school time. Upon graduation, I immediately had a job there.
I spent the next six years of my life at Gramercy Tavern, working 3 years on the hotline and moving to every station including working all the private parties that they had there. At the end of three years, I thought, "My career is not done here at the Union Square Hospitality Group." There was a precedent for this in the sense that there was a young lady who had worked the meat roast station, which is the most prestigious station in the kitchen, prior to myself. She went on to do some pastry work. I thought it was a great opportunity for me to work with Claudia Fleming, one of the top pastry chefs in the country. In fact, during my three years with her, she published a book and was very complimentary of my contribution to her success. She became a James Beard award winner for best pastry chef in the nation, quite an honor. The last year of my career at Gramercy, I traveled the country cooking both Tom's food and Claudia's food. It was something that I look back on and it was an experience that, at the time…you can't really appreciate it. You're meeting all these people, going to these events, doing all these things, and when I look back on it, it was a remarkable time.
It sounds like you're really passionate about what you do. What was that defining moment where you knew, "I don't want to be in finance, this is what I want to do for the rest of my life?"
It was probably in the statistics class or one of those classes where you're like…numbers are all interesting and have got their place, but there's nothing like the live performance. You might say, "How do you go from managing numbers to the live performance?" My childhood was spent in a theatre. I lived the live performance every night for 15 years, from the age of 3 to 18. That live performance, the thrill of that, the adrenaline that brought, you can't find that – in my mind – sitting behind a desk, managing numbers.
How do you equate theatre and being a chef, making food and creating in the moment?
Every night, when the curtain goes up, there's a chance to make every person happy and surprised. Sometimes, we challenge their emotions. Not everybody is going to come to the restaurant and be blown away by the food. They might be surprised, put off, who knows. But there is an immediate reaction that you can thrive off of.
I played baseball at the University of Southern California and I played with people who are now in the major leagues, including Aaron Boone. When you get on that field and the entire crowd is looking and the national anthem is playing, there is a feeling that's really hard to express. It's a very emotional, adrenalized feeling. You can obtain that feeling as a cook, as a chef, as an expediter in the kitchen every night. You hear the roar of the crowd, you hear the moan of an error, you hear all those things. That's the international language of food. If you spoke French and I spoke Japanese and we both enjoyed a strawberry together, those moans are international.
How did you get to the Ryland Inn?
That's interesting. Going back to the Gramercy Tavern, what was instrumental in our success as I moved forward with Tom was relationships with small family farmers. Part of that relationship made me realize that the farmers were a huge part of our success. I wanted to have more control over that success, so the idea of growing the products that we wanted to serve seemed logical. During my last position at Eno Terra, we had a two-acre farm where we grew enough product for an entire restaurant group. When an opportunity came to be a chef at the Ryland Inn, which had this incredible history of producing its own product and celebrating it, it was a natural fit and it seemed like it was the logical next step for me to be able to do those things – to have a farm right on the property, to have cooks that were involved in the farming process to then take that product and bring it right to guests to let them experience all the parts that we've come to know and love right from our own garden.
It's beautiful.
Thank you.
What is your inspiration? How do you come up with the different recipes?
The inspiration comes from two areas. On a very logistical way of thinking about it, it starts with a single ingredient. Frankly, it's about collaboration. I'm surrounded by incredibly talented people who inspire me and bring on conversation that elevates our food. It's not just one single person, it's a collaborative effort that's way more than the sum of 2 or 3 or 4 people talking about something. It's really about the emotion of those people conveyed through a single dish.
I love that.
Food is emotional!
When you eat the food here, you feel like it's made with a lot of love and care. It's not just thrown on the plate. Even just seeing you plate everything perfectly, every dish is made with a lot of heart.
Like I said, it takes an army. We are fortunate to have a culture of cooks that want to learn, want to understand more about what they're doing, but also are not afraid to make mistakes and show their passion. When we interview cooks, we talk about being a professional and being positive in the kitchen, but those two things are so we can unlock their passion. That's the idea.
The thing is, life as a chef is hard. Long hours, working nights and weekends. Can you tell us how you balance everything?
There's no question that there's sacrifice, but there are also incredible rewards. To me, those rewards are when you can share those successes with other people around you. In other words, we go to a fundraiser for the Food Bank of New Jersey and I bring a young cook with me who's never cooked side by side. All of a sudden, they have an experience unlike they've ever had in a kitchen on a night-to-night basis. If you think about and dwell upon all the missed weekend and holidays, it can be tough. At the same time, you can temper that with all of the smiles and wows, all the memorable moments you've created for people time and time again. You can create moments for people who are here for a repass or create moments for people who are here for a wedding. Two completely opposite experiences, and yet we are somehow able to deliver food that makes those people feel at ease and these people feel excited.
When you do what you love, it doesn't feel like work.
We've worked a lot of days in our lives, but the adage "If you love what you do, you'll never work a day in your life," I embody that 100%.
Love that. Is there anything else you want people to know about you or the Ryland Inn?
I think we've mentioned the garden and how integral that is to our culture here, not just for bringing things to the center of the table but for really instilling a different valuation system of food. If we dig into the garden, no pun intended, we'll find that the soil is the heart of our garden. If you ask me, we're in the business of growing soil, not so much carrots and tomatoes even though that the symbol of what we produce.
You guys are literally farm-to-table.
Yeah! Other restaurants put it on their menu, stamp the menu with a rubber stamp, and it's little-to-nothing. We hold events to be transparent with the community, to say, "Come see our garden."
You guys do a lot of cooking classes, cocktail classes…
That's right, and Farmers and Family dinners. We've done over 60 cooking classes now and the majority of them included some sort of reference or tour of the garden. We like to be completely transparent on where our food comes from.
That's awesome. You guys also do weddings. How does that translate from carefully plating one plate at a time to serving 300-400 people?
Your perspective is correct in the sense that it's a huge, once in a lifetime day for this couple and we want to help them celebrate. If we can help them celebrate through a customized cocktail, terrific. If we can help them celebrate through them choosing eight hors d'oeuvres that they're passionate about, great. We do wedding tastings and talk with every single bride, groom, mother of the groom, mother of the bride, etc. and it's that connection that makes it all worthwhile. We use the same products – the same things come from the garden, the same herbs, same inspiration and influence of those dishes. We just do them 200 at a time instead of one at a time.